Relaxed to the Airport
With the Airport-Express, you arrive conveniently at the Airport Munich on time. We provide hourly rides that are affordable.
Our bus flett consists exclusively of modern touring coaches which bring you from the Nordbahnhof Ingolstadt (Northern Train Station) via the ZOB (Central Bus Station) and the bus stop Kurt-Huber-Straße to the Airport Munich.
At the Airport Munich, the bus stops at the Terminals A/B, Munich Airport Center and Terminal 2. From there, you can easily access the departure and arrival gates.
Clicke here to obtain information about the time schedule of the Airport express X109!
--> due to the Covid-19, the buses only depart every 3 hours at the moment. This will change back to hourly rides as soon as flight operation take place regularily again.
Do you want to get on the ride at Langenbruck?
If you want to get on the Airport-Express at Langenbruck, you have to make reservations at least two days before your journey at airport-express@stadtbus-ingolstadt.de
Do you plan to travel with a large group?
Please make a reservation by email if you plan on travelling with a large group so we can ensure that ther is enough space for everyone. Thanks!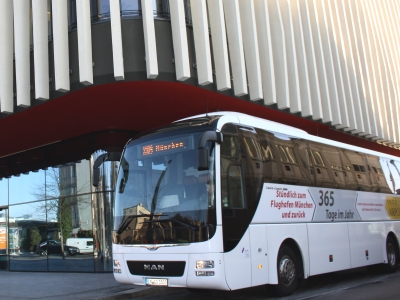 Airport-Express Lounge at the Nordbahnhof
A comfortable waiting room with a seating area and info terminal has been set in order to make the wait more comfortabe for our passengers. The air-conditioned lounge is solely meant for passengers of the Airport-Express. Here, the travelers can relax or get informed about the airport operations at the Munich Airport through the modern "InfoGate". Thus, it is possible to obtain exact information about arrival and departure times, and also about the gates of different airlines.
The Airport-Express Lounge is located directly next to the roofed bus stop of the Airport-Express, so that our passengers stay dry, in case of bad weather, before entering the bus.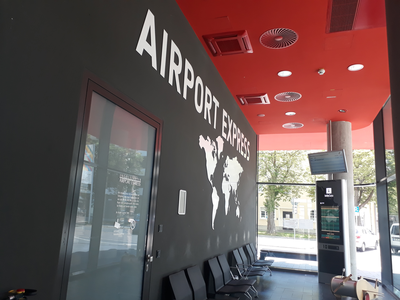 Park & Ride
Especially convenient is the onward journey for passengers of the Airport Express who arrive by car. You can park in the car park of the Nordbahnhof, which is located directly at the Airport-Express Shuttle, to a low price.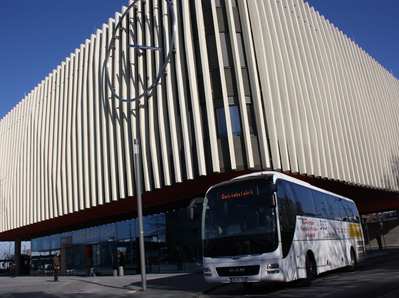 Tickets für den Airport Express
Online Ticket Purchase
From now on, you can obtain Airport Tickets conveniently online in the INVG-Shop. In cooperation with the DB, you can purchase your Airport Ticket directly online and print it.
Notice
The online ticket ist valid only in a completely und fully printed form!
Advance Booking
Options for Advance Booking:
- your travel agency
- the INVG-Customer Center, Mauthstraße 4
- ZOB (Central Bus Station)
- all ticket machines of the INVG
Sale by Driver
tickets available in all regular buses of the INVG to the tariff of the sale by driver
Contact
Stadtbus Ingolstadt GmbH, Hindenburgstraße 1, 85057 Ingolstadt
Telefon 0841/ 305-4 64 64
Internet: www.stadtbus-ingolstadt.de