Kundencenter - Costumer Center!
Your first contact point of all requests about public transport in Ingolstadt and the region!
We have the answers to your questions:
Travel routes

we know the best and most convenient route for you

Tickets

we guide you according to your individual needs so you can obtain an affordable tickets

Pricing

from Paindorf to Kinding, from Münchsmünster to Dollnstein - the investigation of the right ticket is not always straightforward; thus we help you with our expertise
We know the person of charge in our company
Wishes, concerns, and complaints

inform us so we can take care of the further processing!

and much more...
Visit us in our Customer Center:
Mauthstraße 4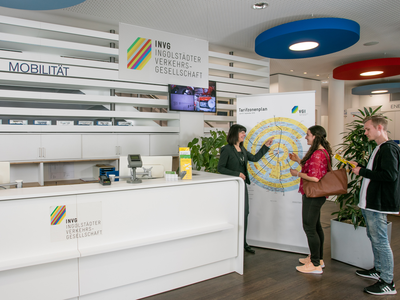 85049 Ingolstadt
E-Mail: info@invg.de
Phone: +49 841 97439 333
FAX: +49 841 97439 399
Opening Hours:
Monday - Friday: 10:00 am - 06:00 pm
Saturday: 09:00 am - 01:00 pm
__________________________________

Our staff in the Customer Center is pleased to advice you!
... and in case you have to carry out multiple tasks, you also find following companies in the Kundencenter Ingolstadt: